This year is a special year for two teachers in our lives. My little guy will be graduating from preschool on Friday (sniff) and thus, barring a surprise-of-a-lifetime, we will be done forever (sniff) with preschool. I'll officially have two "school-age" children. How did that happen? I feel like I was just nursing, putting down for naps, potty training, going to playgroups...how can they possibly be 5 and 7 years old?
Well anyway. I won't get into it too much because it makes me too upset, but this year is likely the last year for that little church preschool that both of my kids attended. There's just too much "competition" (I use that word loosely) from the pre-K programs that the public schools all seem to offer now, and enrollment is really low. Two ladies have been running that preschool for more than 30 years. And they are the absolute best. They sincerely care about every one of those children. And they teach what kids are
capable of learning
, not just the bare minimum requirements needed to squeak by.
I have appreciated these ladies so much over the last 5 years. They have made a difference in my kids' lives, as well as my own. So my standard "Starbucks gift card for the teacher" is not going to cut it this year.
Have you heard the "starfish story?" I'm sure you have. But just in case, here it is:
One day a man was walking along the beach when he noticed
a boy picking something up and gently throwing it into the ocean.
Approaching the boy, he asked,
"What are you doing?"
The youth replied,
"Throwing starfish back into the ocean.
The surf is up and the tide is going out.
If I don
't throw them back, they'll die."
"Son," the man said, "don't you realize there are miles and miles of beach and hundreds of starfish? It can't
make a difference!
"
After listening politely, the boy bent down, picked up another starfish,
and threw it back into the surf.
Then, smiling at the man, he said
,"It made a difference to that one."
And here's what I made:
On the back, there's a picture hanger, and the starfish story. I hope they like them.
(Wanna see how I did this? Read on.)
I've been on a "use-what-you-have" kick lately. Sometimes I just feel like I have so much STUFF. As much as I
love
shopping at the craft & fabric stores, sometimes I reach a limit where I just feel...almost wrong...about buying more crafting stuff. I went to Michael's for the starfish (2 of them), and everything else I used out of my own home.
I had in my mind a general idea of what I wanted to do. Step 1, find something plaque-worthy. A tile? I love using tiles, but it would be really heavy. hmmmmm....oh! Here's something I found in the dark, dank, depths of our basement:
uh, that's sideways. But you get the idea.
So I manned up and dragged out the DH's saw. Sawed this baby into two 11x11 squares, and sanded the edges.
that's our basement floor. it's scary down there!
primed & painted
After that, I just played around with the things I wanted on the boards until it looked good to me.
Mod Podge, baby!
Stinky, cancer-causing glue. But at least it'll hold that star on.
And there you go! Easy. And cheap ($8 for both). And meaningful.
Linking to...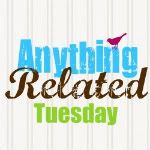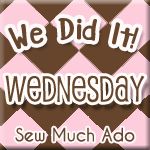 center>